2017 Day of Mourning in Vancouver
The main British Columbia Day of Mourning Ceremony returned to Hastings Park from downtown Vancouver April 28th this year.
The Day of Mourning Ceremony recognized the 144 workers who lost their lives in 2016 due to a workplace injury or illness and their survivors.
The sponsoring organizations: WorkSafeBC, the BC Federation of Labour, and the Business Council of BC hosted the ceremony in the Centre Grounds courtyard at Hastings Park followed by the piper-led solemn march to the park setting of the Workers' Memorial Sanctuary.
In Vancouver, attendees heard presentations from representatives of the sponsoring organizations and Michael Lovett injured as an 18 year old high school graduate only a few months on the job at a sawmill in Mission and Renee Ozee the mother of Scott Ozee a 23 year old electrocuted on the roof of a house in White Rock.
Although workplace fatalities often may be considered as accidents which cause a rapid loss of life; 85 of these deaths were due to occupational diseases acquired in the workplace after a long history of exposure.  Three of the occupational diseases are caused by historical exposures: Mesothelioma, Asbestosis, and lung cancer cause their deaths years after workers exposure ended.
Ceremonies were held at many public locations throughout the province and at workplaces hosted by municipal councils, labour organizations, and employer groups.  WorkSafeBC sponsors memorial cairns and presentations from injured workers and their families at many events.
This year the event sponsored by the BC Federation of Labour as its main event was held in Victoria with a ceremony and March to the Legislature after many years in the Vancouver area.
Occupational Health and Safety Week is the underway the second week in May with events throughout the province.
In the Vancouver area on Sunday May 7th the Steps for Life Walk at Burnaby Lake Park starting at 11 am (Registration at 9 am) will be held in support of surviving family members.
Close up of the wording on the Memorial Cairn: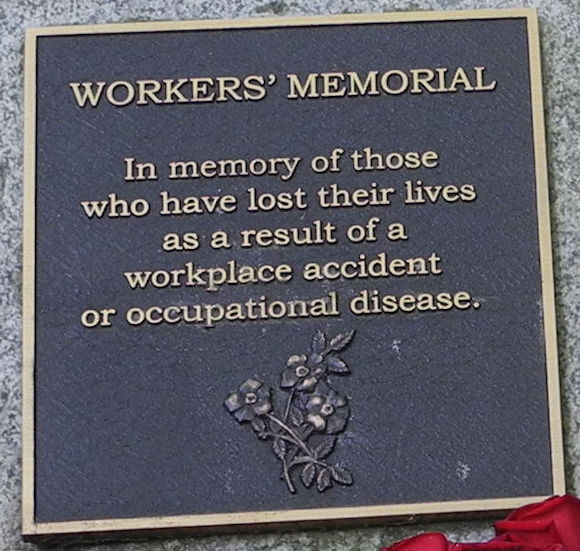 Click here for more photos from the 2017 Day of Mourning