Professional Membership Benefits
OPTIONAL INSURANCE COVERAGE
Discounts on a variety of insurance plans from other carriers.
DISCOUNTS
Discounts on a variety of insurance plans from other carriers.
Professional members enjoy a number of
discounts
from various training agencies, equipment suppliers and other companies. We are always seeking additional discounts of any kind for our members.
EMPLOYMENT REFERRALS
This is a listing of job postings received from employers around B.C. Positions are anywhere from full time to a few days. Members access this service via
telephone
.
FASTER (First Aid Short Term Emergency Response)
The Association facilitates a contract first aid program for its members, through which a company's needs of a first aid Attendant, on a temporary basis, can be met.
The Attendants must be current Association members at the Professional level with a valid unrestricted Level 3 WCB OFA ticket. Reliable transportation is a must, and most of our sites require steel-toed boots. We cover the Lower Mainland on a daily basis, and can make special arrangements for out-of-town employers needing coverage.
Get more info, submit your name to be placed on the interview waiting list or inquire about services for
your
work site!
FASTER
NEWSLETTER
A quarterly
newsletter
with articles by Association Board members and Association members covering various aspects of Occupational First Aid, from techniques and information to WCB Regs. Also includes announcements from the OFAAABC and various agencies and companies dealing with the profession.
REPRESENTATION
The Occupational First Aid Attendants Association is in touch with and monitors the happenings at the
Workers' Compensation Board of British Columbia
, particularly in the area of Occupational First Aid. Our purpose is to represent and promote the interests of the OFAAs of British Columbia. We want to hear from you, about your concerns and ideas.
JEMS MAGAZINE
Professional membership includes a one year subscription to
JEMS Magazine
, (Journal of Emergency Medical Services) "... the independent voice for the improvement of patient care in the prehospital setting. Through news, commentary and educational features focused on advanced life support, JEMS is a catalyst for positive change in EMS."
Back issues available for viewing in our office.
CEN MAGAZINE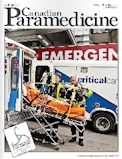 Professional membership also includes a one year subscription to
CEN Magazine
(Canadian Emergency News). Canada's own magazine of local and national information and stories.